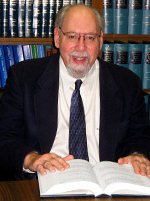 Family Law
Address:
Law Office of Michael J. Lowy
2600 El Camino Real, Suite 506
Palo Alto, CA 94306
Phone/Fax:
650-856-6262 (telephone)
650-856-7723 (facsimile)
Email:
Lowylaw@yahoo.com
Web:
www.mjlowylaw.com
Bio:

I have been a practicing family law attorney since 1980 and I became increasingly dissatisfied with the court process. There had to be a better way. Therefore, along with several colleagues, I became a founding member of The Collaborative Law Association(now CPSV). We drafted the Principals and Guidelines which are used in collaborative cases throughout the world. I have successfully completed over 50 collaborative cases. I received the Eureka Award for outstanding service to collaborative practice in California in 2007. I have been designated "SuperLawyer" since 2011 and have an AV Rating from Martindale-Hubbell.

Before becoming a lawyer I earned a Ph.D. in Anthropology and I am very comfortable handling divorce cases involving individuals from diverse cultural backgrounds.